Back in April this year we took a small group of photographers to the Snowdonia National Park for our Models Mountains photography holiday. Two professional models, castles, lakes, mountains, beaches, swords, armour and a willing bunch of creative professionals, what could possibly go wrong?
Let me start by saying however that all of the images in this post have been provided by Andy Hargraves, one of the participant photographers who joined us on this photography holiday. I wanted to show the types of images one of our attendees captures on these trips, so a huge thanks for allowing me to use them Andy.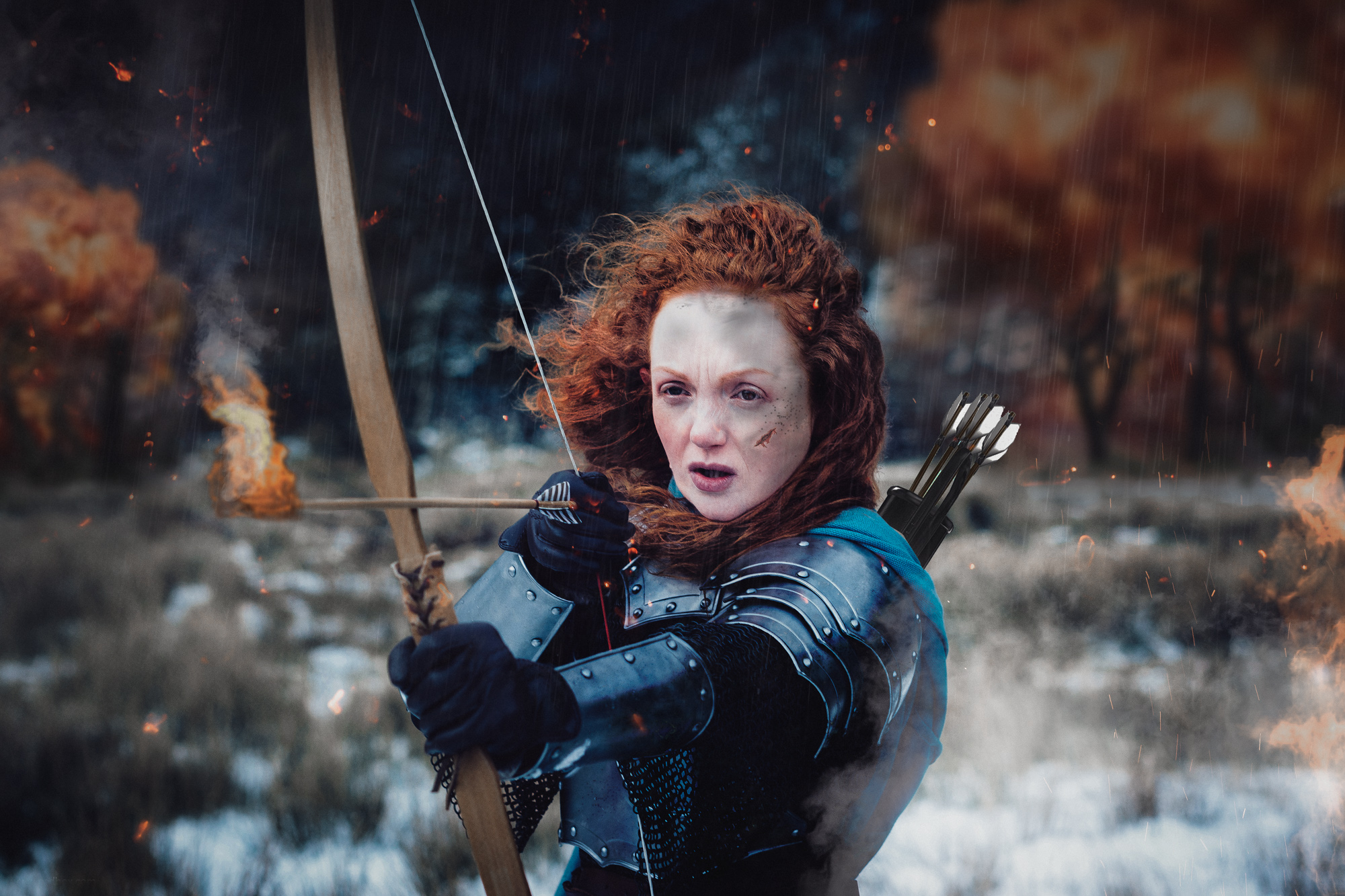 We had a vision for our Snowdonia photography holiday which on paper seemed quite simple, we would attempt to get the photographers on the trip shooting a basic storyline of two warriors travelling through the landscapes and ending up in a battle scene.
The reality was that it ended up taking months of planning. Model hunting, location scouting, outfit and prop sourcing, accommodation and travel planning, the list of things we had to piece together to make this shoot a success was endless.
The outfits alone took weeks. We had to source the female armour, find authentic looking weapons, chainmail and accessories. We started looking online but soon ended up travelling across the country to LARP and roleplay conventions in our search for the perfect outfits. In the end, on paper at least it had all come together and we set off to Snowdonia to meet our photographers.
As we set off from Peterborough it became clear that all the months of planning meant nothing as there were certain things that were out of our control… the weather being the all important one.
We had booked this trip in months in advance and just could never have predicted that we would be in Snowdonia when Britain was hit by the storm which we all lovingly named, The Beast From The East. To say it was cold was an understatement, at times we were battling a -10C windchill on the exposed mountainsides with nowhere to hide.
Our photographers and models, however, did their best to plough on and get the shots. Our locations for this photo-shoot included Gwrych Castle, Harlech Beach, Cwm Idwal, Llyn Gwynant and the start of the Watkin Path up Mount Snowdon.
Perhaps my favourite shoot on this trip was on Harlech beach where our model Holly wore a dress made from a parachute that my partner Rhian had put together. She looked awesome, but the wind was so strong Rhian and I had to literally lie underneath the dress at the back and hold it down to stop Holly blowing away!
The cold on the wide open exposed beach was a little too much though so we cut the shoot short and headed back to our rented cottage to warm up. We had booked a horse for our models to use in the afternoon and the group were torn, I could see it. They desperately wanted to shoot with the horse, but the weather was so cold, it took some convincing to get them to head out in the afternoon.
The shots Andy got with Amelia guiding the horse through the mountains were epic and I'm so glad we did it. The reality of the situation was that we drove as close as we could to the mountain location, jumped out of the car and ran up the mountain for about 10 minutes to get the shots, before deciding we could no longer bear it and heading back for the cars!
As day 3 came around we woke up to find we had been completely snowed in, there was no chance of moving the cars. I could see the group had been a little beaten by the cold the previous day too and they decided they'd like to shoot in the cottage that morning. The sensible side of me knew they were right, but to this day I still think it was a huge missed opportunity. How many times in your life are you going to find yourself in the Snowdonia Mountains with 2 models, tons of armour, swords and props with the entire landscapes blanketed in snow?
We got some great shots in the cottage however using the studio lights we take on every trip and a little creativity. In the afternoon we headed to the lake opposite our cottage to shoot our epic battle scene where the 2 warriors finally came together.
The snow had thawed quite a lot but the temperature was still a massive challenge. The models and photographers on the trip did so well to get themselves out after 2 days of challenging conditions.
The following day as we were all due to head home the sun came out and temperatures returned to normal, the storm had passed….
Months of planning could have been entirely ruined had our group not came with the right mentality and attitude. It was cold, we all knew it, but they carried on the best they could and that is all we could ask of anyone on our trips.
I hope you all love Andy's shots in this post, he captured what we had in our heads whilst planning this so brilliantly, I am thrilled he allowed me to share his images with you all.
Want to join us on a photographic adventure? Find out more about our Photography Holidays Here

Behind The Scenes
---