Photographing a wedding is probably one of the biggest jobs I take on. With the average wedding coverage lasting some 10 hours, I not only need to be prepared to photograph all day long, but I also need to be prepared to photograph in ever-changing lighting conditions, both indoors and outdoors. A wedding can go from the brightest sunlit outdoors portrait shoot, to a dimly lit reception room in a matter of minutes. I must be ready to get professional looking shots no matter what conditions I walk into.
Not only do I need to be prepared for when everything goes right, but I need to prepare for when it all goes wrong too. What if my camera breaks? What if I drop a lens? My tears for these expensive errors need to be saved for when I get home, the wedding will go on and my coverage of the happy couple's big day will be expected to go on no matter what happens.
With all this in mind, the kit I take to every wedding is carefully chosen to be lightweight as there is a lot to carry, but comprehensive enough to cover me in any event. If you've ever wondered what gear is required to photograph a wedding, well wonder no more! Here is my current wedding photography kit list for your perusal.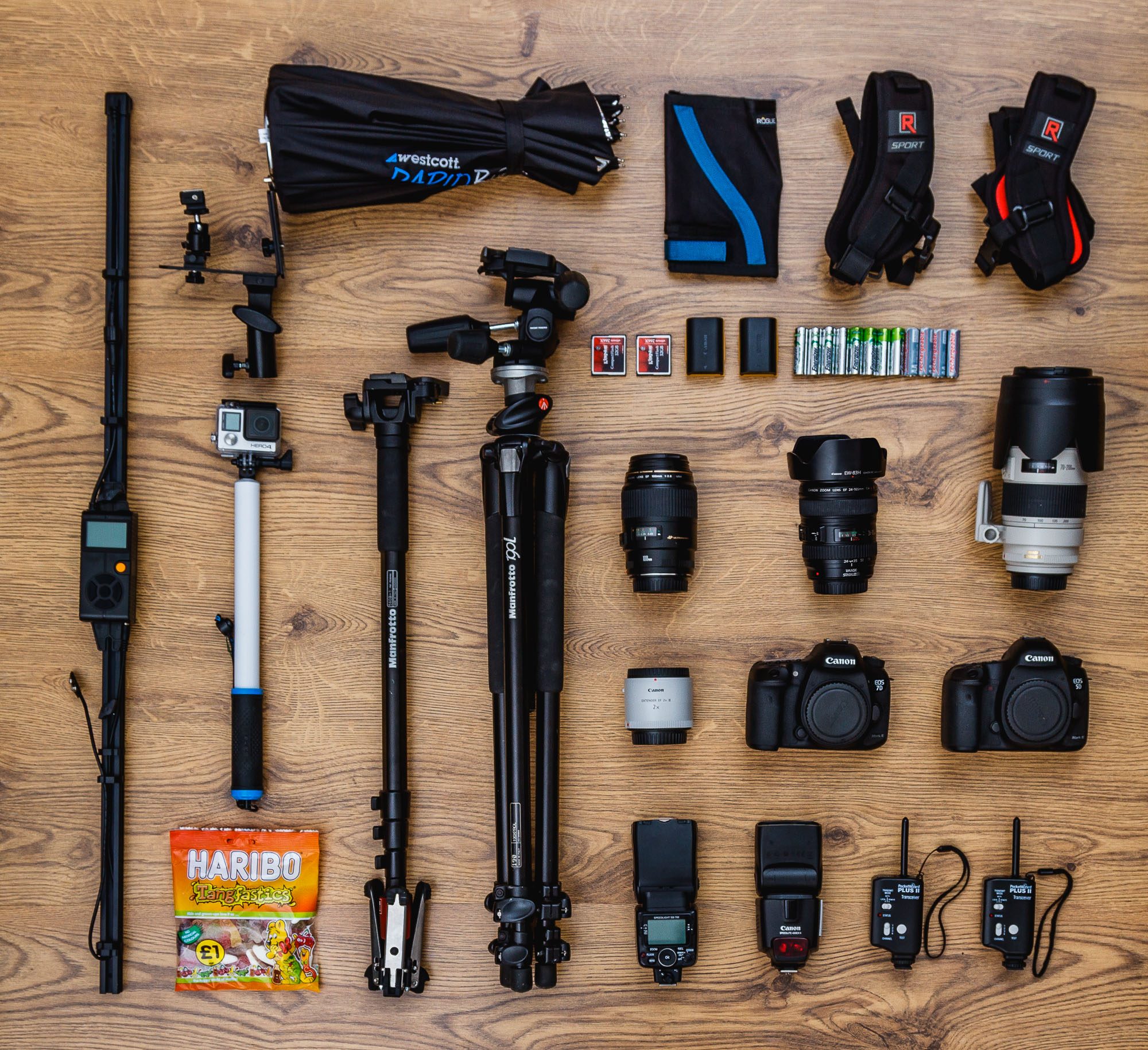 Canon EOS 5D Mark III
This is the camera I've used for 95% of my shoots in the last 4 years and it is an absolute workhorse. I chose the 5D MKIII for its high ISO performance, 61 autofocus points, 6FPS and general all-round professional performance. I absolutely love this camera, however with the Canon EOS 5D Mark IIII now on the scene there will be a decision soon as to whether to upgrade, but that's a topic for another day.
Canon EOS 7D Mark II
This is largely my backup camera for if anything went wrong with the 5D Mark III, but I honestly wouldn't break into a sweat having to use it with the quality it offers up. I have more recently been shooting with 2 cameras so I don't have to keep changing lenses on shoots and the 7D MKII is the second camera I have been using with great effect. With its 20MP Dual-Pixel AF CMOS Sensor, 10 fps continuous shooting and 65 all cross-type auto-focus sensor, what is there not to like?
GoPro HERO4 BLACK
You use a GoPro to photograph a wedding? Are you nuts Mr Smith?
Now I'm not saying I use the Gopro to do the formal group shots or wedding portraits, that would be bonkers. However, being small and waterproof has its advantages and allows me to get shots from perspectives, angles and conditions that I simply wouldn't want to put my main camera into. The quality of the GoPro Hero4 is excellent, the resolution is good enough to print so if it gives me something different to everybody else, well why not?
Canon EF 70-200mm f2.8 L IS II USM Lens
This is my favourite lens without question. It delivers superb image quality, is great for portraits and given its zoom range it allows me to get photo's that look like I'm right in the action, without actually having to be in the middle of it all and interfering with what's going on. The downside is that it's a heavy lens to lug about for 10 hours, but it's worth it.
Canon EF 24-105mm f/4L IS II USM Lens
I accidentally fell in love with this lens and should have given up using it by now as there are clearly better options available, but love makes us do crazy things. At the time of purchasing this lens I simply couldn't afford the Canon EF 24-70mm f/2.8L II USM I really wanted, so I picked this up second hand as a temporary measure and haven't looked back since. I like the image quality and find the zoom range for weddings extremely handy which makes giving it up a difficult decision, but it won't be long now before I trade this in for the 24-70mm f2.8… I think.
Canon EF 100mm f/2.8 Macro USM Lens
Do I carry a lens that I know I'll only use for about 5 photographs throughout the entire day? Yes, yes I do. My Canon EF 100mm macro lens is my "ring shot" lens, it lets me focus nice and close on small objects ensuring they fill the frame entirely. This is the perfect lens for detail shots and wedding rings.

Canon EF 2x III Extender
This isn't something I use a lot at weddings but I do carry the Canon EF 2x III Extender with me as especially in the summer when everybody's outside and more scattered about, being able to extend my Canon EF 70-200mm f2.8 L IS II USM Lens to a focal length of 400mm has its advantages. Using the extender also means I can shoot speeches from the back of the room out of everybody's way and still get nice close-ups of all the speakers.
2 x Canon Speedlite 430EX II
I simply couldn't shoot a wedding without adding additional light to a lot of scenarios throughout the day. Receptions rooms are often dimly lit, hotel rooms where bridal preparation take place can often have very little natural light and I'll use off camera flash for portraits and definitely the first dance. I use 2 Canon 430EXII Speedlight's which aren't the newest, fanciest, all singing all dancing offerings. But do they give me extra light when I need it? They most certainly do.
2 x PocketWizard Plus II Wireless Transceivers
I use PocketWizards to trigger my Speedlight's when off camera because they work every single time. No misfires, no messing about setting them up and trying to get them to work, I just plug them in and away I go. Not the cheapest triggers on the market but the most reliable, I wouldn't want to use anything else.
Rogue FlashBender 2
I'm not a fan of direct flash from an on-camera Speedlight, I like to bounce my light to diffuse it as it offers up fewer shadows and in my opinion, is far more pleasing. I'll use the largest white surface I can find to bounce my light, however, sometimes there isn't a wall or ceiling to hand and this is where the Rogue FlashBender steps in. You simply attach it to the Speedlight, bend it into position and instead of pointing the Speedlight direct at your subject, you bounce the light off the FlashBender which gives a softer and much nicer light source.
Westcott 65cm Octagonal Rapid Box
A super portable softbox that attaches to my Speedlights and offers up some beautiful lighting whilst on the move. I use the Wescott Rapid Box for my Wedding Portraits of the bride and groom.
Manfrotto 190L Tripod
If I am very honest this is the only professional tripod I have ever owned and it's never given me any problems. It's a little old now, but it is sturdy and does the job. I'll use the tripod for low light photography when I want to lower the shutter speeds to allow more light into the exposure.

Manfrotto 560B-1 Monopod
I liked the idea of using a monopod to ensure my photos were nice and sharp every single time. However, I just haven't taken to using one yet as I find them a little clunky and they slow the flow of a shoot down for me. The Manfrotto 560-B1 Monopod is designed more for videography and is a little more free-flowing than previous ones I've used. It's early days with me using it but from all the monopods I've used I like this one the best. Time will tell if it works its way into my shooting regime permanently or if it gets sold on eBay!
Pixelstick LED Light
A very new addition to my wedding photography is the PixelStick LED Light which allows me to add light painting to some of my wedding portraits. I've only used this a handful of times, however, my clients have really enjoyed the effect it gives and I can see this being very useful and fun going forward.
Accessories
Too many small accessories to go into details about, but largely I carry lots of batteries and memory cards to ensure that I simply don't run out on the day. These include:
3 x Canon LP-E6 Battery Packs
3 x Kingston 32GB Memory Cards
Lots of Rechargeable AA Batteries
2 x Black Rapid RS-Sport Straps
Haribo Tangfastics
These get a special mention and will normally be found in my bag at every wedding I shoot. When you are constantly photographing for 10 hours straight it's important to keep the energy levels up! That, and I like Haribo...
---